Winston Parker grew up in the Red Deer Lake / Midnapore area. Shortly after World War II began on Sept. 3, 1939, 21-year-old Winston enlisted with the Royal Canadian Air Force.
After training Winston was posted with the 101 Squadron RAF (Royal Air Force) and served as a wireless air gunner; he flew 10 operations with Dick Laing and one as a rear gunner with Group Capt. Evan Evans. All operations were on Wellington bombers.
In April of 1941, Winston participated in his 13th operation and his plane was the 13th to take off that day. It was going to be an unlucky day.
"We were approaching Hamburg when our starboard engine was hit and set on fire. Using the built-in fire extinguisher, the pilot put it out. Then when the port engine was on fire, he restarted the first engine and got the second fire out. Then the pilot said, 'Throw out everything you can and we'll try to fly home on our single crippled starboard engine'. We threw out guns, ammo and anything else we could find in order to try and limp home or get to Holland. We flew as far as Oldenburg, Germany, which is quite close to Holland, when the starboard engine again burst into flames which started spreading. The pilot gave the order to bail out… Five of us bailed out, but the rear gunner [Dick Howard from Longview, AB] didn't make it.… When I was coming down in the parachute, I thought I was going to land in the water so I tried to direct myself away from it… lucky for me, I landed on a railway track.
"I walked pretty steady down the railway track for about three hours to get as far away as I could from the marsh. It was about two in the morning. Then I hid in a farm shed all day and that evening. When they were making their search for me, the Germans found me hiding there.' -- Saddles and Service Winston Parker's Story
All five surviving members of the six-man crew were captured by the Germans.
Winston's parents first received a telegram from his commanding officer stating that he was missing in action, and then a second telegram arrived on April 21, 1942 stating the Germans listed him as a prisoner of war.
Winston was sent by train to a prison camp called Stalag VIIIB located in Poland near the town of Lamsdorf. He spent more than three years there, in what many consider one of the toughest POW camps in existence.
"Living conditions in the German reprisal prisoners camp Stalag VIIIB, where I spent three years, were exceedingly harsh… Not long after I was captured, the German guards bound our hands together for a few weeks with the twine from the wrapping on our Red Cross packages. Following that, our hands were handcuffed for 11 months. This made ordinary survival actions like eating difficult and going to the bathroom degrading because we had to help each other." -- Saddles and Service Winston Parker's Story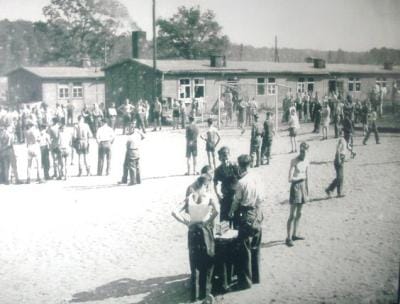 Stalag VIIIB at Lamsdorf. Photo: www.lamsdorf.com/welcome.html       
Stalag VIIIB at Lamsdorf. Photo: memorialmuseums.org
In late 1944 and early 1945 Russian armies began advancing towards the prison camps. In an act of desperation to maintain control of the prisoners, the Germans forced the prisoners on an aimless, heartless death march.
"As the Russian army advanced, the Germans opened the gates of Stalag VIIIB on Jan. 22, 1945 and began marching us prisoners out in columns of 1,500 over a two-day period. We walked approximately 600 miles or 1,000 kilometres in all kinds of weather including sub-zero temperatures. Herded like animals with guns pointed at us, we lived outdoors for the most part, almost starving to death…
The map, highlighted in pink, shows the route Winston was forced to march from Jan. 22, 1945 until April 11, 1945. Source: Saddles and Service Winston Parker's Story.
"One morning, we awoke to find there were no German guards. They had gone away in the night. The next thing we knew, some American jeeps and a tank or two came rolling toward us. Those fellows told us we were released. We were no longer prisoners of war. We were liberated!
The date was April 11, 1945." -- Saddles and Service Winston Parker's Story
Winston weighed less than 98 pounds at the time he was liberated. After six weeks in hospital in England, Winston returned to Canada in July 1945. In 1946 he purchased a farm south of the Millarville Christ Church where he farmed until he moved to Okotoks in 1989.
Winston is 101 years old and is believed to be one of the last surviving prisoners of war in the world.
His remarkable memoirs entitled, "Saddles and Service Winston Parker's Story - Told to Elaine Taylor Thomas," is available for purchase on Amazon: https://www.amazon.ca/Saddles-Service-Winston-Parkers-Story/dp/0983817006