Victory is Near
With growing anticipation that an Allied victory was imminent, Okotoks started planning for a victory celebration as early as September 1944 -- and to host it "as soon as we get word."
A committee comprised of dozens of residents began planning for a full day of activities, incorporating local churches, schools, service organizations and veterans. Days passed, then weeks, then months and then they were into a new year, but the organizing committee remained positive and continued to meet, plan and be ready.
The greatest challenge to the organizers was the fact they did not know when victory would come. The second challenge was how to alert the community to the news. The Okotoks Review was the town's weekly newspaper, publishing the news each Friday. It was "…difficult to definitely arrange the hour or the day for the main celebrations," reported the Review in its April 20, 1945 edition. Therefore, organizers had to rely on the tried and true method of word-of-mouth and the telephone to spread the news! "Announcement of arrangements will be passed to rural telephones lines following local preparations. Let every person young and old from near and far rejoice and join in this long awaited event," wrote A. Z. Hicks in the Review.
At its April 24th council meeting, Okotoks Town Council declared that VE Day – whenever that was to be – and the following day would both be 'public holidays.'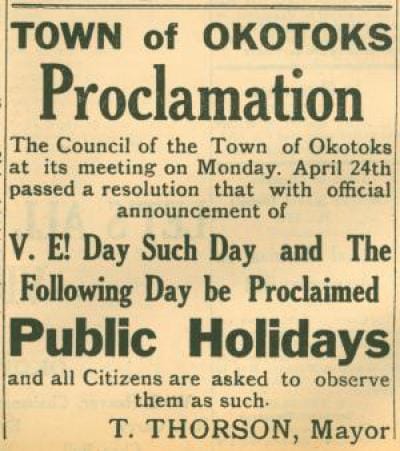 Proclamation, Okotoks Review, April 27, 1945 issue
Long-awaited victory
Late on Monday, May 7, 1945 Okotoks and district celebrated Victory in Europe with a grand parade, a solemn community Thanksgiving service and a huge bonfire on the hill. VE Day wasn't officially proclaimed until May 8 with the unconditional surrender of Germany, however, nothing could keep Okotoks residents from celebrating! In fact, many communities across North America started celebrations on May 7, and the revelling subsided when people learned it had not been confirmed. When confirmation did come at 9 a.m. EDT on May 8, celebrations resumed.
Okotoks Review, May 11, 1945 issue
The parade included the Okotoks band, veterans of both World Wars, decorated floats of the United Farmers of Alberta and Imperial Order Daughters of the Empire, youth groups including the Army Cadets, and Canadian Girls in Training, school children, and numerous private motor cars. Cst. Cunningham rode on horseback and school principal John Wilson was parade marshal.
"A conspicuous feature of the parade was Hugh Berry wheeling a baby buggy with a small child (we presume it was borrowed) in it enthusiastically waving a flag and enjoying itself hugely," reported the Okotoks Review.  It turns out, Hugh Berry, the town's pharmacist, got so excited while marching in the parade that he grabbed a baby buggy from onlookers watching the parade. The baby turned out to be Sandy Hoiland, daughter of Audrey and Francis (Franny) Hoiland. "Our daughter, Sandy, was less than a year old when she got 'kidnapped' buggy and all and taken around a happy VE-Day parade route. We did get her back!" recalled Audrey. The 'kidnapping" also made headlines in the Calgary Herald.
After the parade made its way through the town, it arrived at the Elks Hall where 700 residents gathered for a solemn service of thanksgiving and remembrance. It was led by Rev. Hoad of St. Peter's Anglican Church, William Fisher and Mayor Thor Thorson of the United Church, and H. Jacobson of the Gospel Chapel. A full choir, accompanied by the town band, also performed. 
The celebration continued on the hill where a huge bonfire was ignited and an effigy of Hitler was thrown into the fire.
Okotoks Review, May 11, 1945 issue.
Unfortunately, the Okotoks Museum and Archives does not have any photographs of the VE Day celebrations held in Okotoks. If you have photos that you would like to donate or loan to the museum, we would love to hear from you.
Celebrations in Canada
The Okotoks celebration was just one of many held throughout Canada to mark VE Day. In communities from coast-to-coast schools, offices and stores closed to allow residents to celebrate. Parades and marching bands filled the streets, church bells rang, and residents gathered in a state of shared joy and relief. In big cities like Toronto, thousands danced in the streets while three Mosquito aircraft dropped tickertape from overhead.
Victory in Europe Day (VE Day) celebrations, May 8, 1945 in downtown Toronto. Credit: Ronny Jaques / National Film Board of Canada. Photothèque / Library and Archives Canada / PA-114626
Crowd at Confederation Square on V-E Day, May 8, 1945, Ottawa. Credit: Chris Lund / National Film Board of Canada. Photothèque / Library and Archives Canada / PA-111593
The City of Calgary proclaimed a civic holiday May 7-8 with all schools and businesses closed and a large thanksgiving service held downtown. All liquor stores, beer parlours and hotel taverns in Calgary were also kept closed until May 9 to help control rowdy revellers. 
Front page of Calgary Herald, May 7, 1945.