Water Consumption Information
Water Consumption Graphs 2018
These graphs depict recent weekly water use in the community: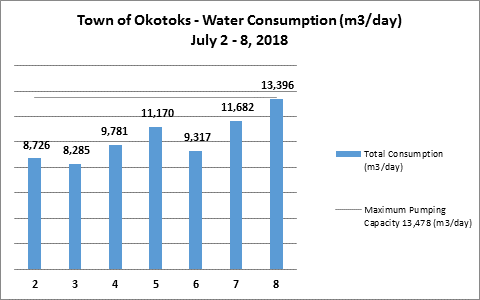 Outdoor Watering Schedule Information
The Town of Okotoks' outdoor watering schedule is in effect annually from May 1 - October 31.
NEW CHANGES THIS YEAR!
The outdoor watering schedule has been changed slightly to better balance the high demand for water during the peak watering season.
The odd and even household number system remains the same. Each address has  a three hour watering period to utilize what may be convenient for you: the early morning schedule is from 6 a.m. to 9 a.m or the evening schedule which is now from 7 to 10 pm.  Properties with automated irrigation systems are now to set their watering schedules between 2 a.m. and 5 a.m. on their permitted days. These changes are being implemented to reduce high demands as experienced in 2017.