Projects
Architectural Guidelines Workshop
MARK YOUR CALENDAR!  Attention Downtown Okotoks Property and Business Owners & Tenants
Architectural Guidelines Workshop
​Date: Wednesday, September 28, 2016
​Time: 7:00 am to 9:30 am (light breakfast will be served)
Location: Municipal Centre Council Chamber (5 Elizabeth Street)
If places are more attractive, visitors stay longer and spend more. With more people visiting and living near the downtown business improves further.  The upcoming FREE Downtown Okotoks Owners and Tenants Workshop will begin with a presentation on the Value of Design Guidelines and Other Tools to improve business and enhance the downtown as the place to be, do business and shop. The workshop will then include an interactive discussion that will include exploring questions like:
 What is the Okotoks look and how can we enhance it?
 How does it apply to the buildings and landscape?
 How do we incent action working with the Town?
Please join us for this dynamic conversation with Michael von Hausen about the future of your downtown. Your ideas are valuable and we want to hear them.
Michael von Hausen is an award-winning urban designer of small downtowns across Western Canada. He brings 35 years of experience and will facilitate this workshop to discover the gems of Okotoks. He has worked with Cochrane, Medicine Hat, Bragg Creek, Red Deer, Lacombe, Leduc, and many other communities to help shape their future downtowns. He uses a highly engaged community process that tries to build unique and place-specific solutions.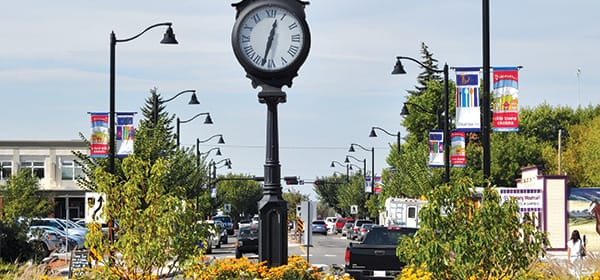 Business Visitation Program & Survey
Okotoks Business Visitation Program
Purpose:
To gather and share information and assist businesses to become more efficient and competitive in their marketplace;                         
To retain existing and develop new commerce and employment opportunities;
To enhance the ongoing relationships between the Town of Okotoks and the business community;
To identify trends and opportunities that will help our business sector grow and prosper;
To identify and recommend to Town Council policy issues that may affect the development of the private sector;
Assist in developing strategies to increase the non-residential assessment and tax base for the Town of Okotoks.
Rationale:                  
Existing firms are an engine of economic growth.  When a community commits to working with its existing firms, it commits to working with a group of firms that are important to the future of the local economy, and those who have already invested in the community. A tested and true approach to economic development, the Business Retention & Expansion (BR&E) Visitation Program, will help provide information to assist in maintaining our economic resiliency.
Goals of the Okotoks BR & E Program:
To provide data for the community's economic development strategies;
Identify early warning signs and address challenges before they become critical;
Identify areas where capacity exists for expansion;
Assist and strengthen local firms by increasing their competitiveness;
Improve local cooperation, networking, and education;
Increase capacity of local businesses to compete;
Demonstrate a pro-business attitude encouraging community and businesses to work together, foster environment of collaboration;
Enhance job creation and economic prosperity
Business Visitation Program Survey 
The goal of the initiative is to provide all Okotoks businesses, including home-based, with the opportunity to provide feedback on the business climate in Okotoks as well as current activities and future plans of the businesses via an online survey. Additionally, 20-35% of 592 storefront businesses will be visited by a member of the Business Visitation Team established for this program once the online survey is complete.
For details on the Business Visitation Program visit: okotoks.ca/evdevprojects
​For More Information:
EDC Chair/Councillor Tanya Thorn
Ph: 403-860-7342
Email: tthorn@okotoks.ca
Okotoks & District Chamber of Commerce
Ph: 403-938-2848
​Okotoks' residents have weighed in on what they want the town to be known for, and over the past several months, all of the ideas that came from you have been put through a process that has resulted in an Action Plan that will shape Okotoks' future for generations.  It's exciting and an incredible start to positioning Okotoks as one of Alberta's most desirable places to live, raise a family, start or grow a business, and visit! 
For more information, review the new Roger Brooks Branding, Development and Marketing Action Plan for Okotoks below.
2016
Watch the following Roger Brooks Brand Direction Video and see

Okotoks

' Future Revealed!

See the following PowerPoint version of the Roger Brooks' Presentation:

2015
Watch the Roger Brooks Branding Presentation:

See the Okotoks Brand PowerPoint Presentation:

2014

View all Roger Brooks News Releases

For more information contact:
Economic Development
Ph: 403-938-8052
Email: ecdev@okotoks.ca

The Branding Team:
Sun:
Closed

Mon - Fri:
8:30 am - 4:00 pm

Sat:
Closed

Contact